*Note: These posts are based on my opinion after watching Johnny Depp movies. The may contain spoilers and will be highly subjective. You have been warned.*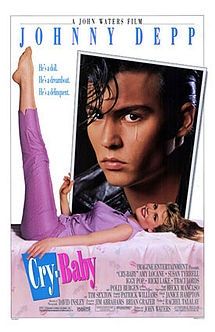 Cry-Baby is a 1990 satirical comedy. It pokes fun at movies set in the 1950s, such as Grease. Depp plays the rebel Wade "Cry-Baby" Walker. His friends, all delinquents of some sort, are referred to as "drapes," while the good kids are referred to as "squares." As with most teen movies, Cry-Baby falls for the beautiful square, Allison. With the stage set and the characters in place, the absolutely hilarious story of two star-crossed lovers unfolds.
Nothing I say about this movie will do it justice. It's one of my favorite cult films of all time. The role of Cry-Baby is not something that anyone can play. It takes a person with a certain kind of presence. The character is suave, daring, and confident, while also being caring, quirky, and conflicted. For such a kitschy (how you like them apples?) movie, Cry-Baby is a really complex character.
Some of you might find in interesting to know that Depp chose this film because he wanted to step as far away from 21 Jump Street as possible. He was sick of being the teen-heartthrob. He wanted to find his own niche in the acting world. Well, starring in Cry-Baby was definitely a good start on his path to odd roles. He must have felt right at home playing a badass oddball.
There is so much more that I can say about this movie, but I have no idea where to start. The over-acting is obvious, but endearing. It's an old school spoof; the characters are supposed to be goofy! The facial expressions and body language really go together to create an appropriate mood for the entire movie. I do have a few issues with the cultural issues that are addressed with some of the characters. For example, the parents are supposed to be exaggerated versions of American problems (i.e. smoking, ignorance, Bible-thumping, etc...). Yeah, it makes for a few good laughs, but it doesn't add anything to the story. The drapes would be drapes with or without dysfunctional families. It's called teen angst for a reason.
Favorite Scene: One scene immediately jumps to the forefront when I look for a favorite. It's early in the movie when Allison is driving home with her grandmother and boyfriend. Cry-Baby and his gang of drapes drive along side the car as Cry-Baby starts singing a love song to Allison. Cry-Baby is driving on the wrong side of the road, so a car shows up driving toward him. He immediately winks at Allison and blows her a kiss before avoiding a head-on collision. Every time I watch this scene, my stomach drops and my heart jumps into my throat. Young Johnny Depp winking and blowing a kiss directly into the camera. It's almost as if he's looking directly at you. I always swoon a little when I see it. It makes me feel like a 13 year old girl with a crush on a cute boy. I can imagine watching the movie when I'm 50 and feeling the exact same way. It's a great feeling.
The movie may not be loved by all, but that doesn't make it any less good. I happen to think that it's one of Depp's better choices. Do you agree? Have you seen Cry-Baby? What did you think of it?