*Note: These posts are based on my opinion after watching Johnny Depp movies. The may contain spoilers and will be highly subjective. You have been warned.*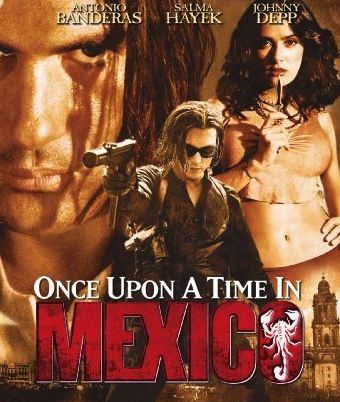 Once Upon a Time in Mexico is a 2003 action film with a pretty decent cast: Johnny Depp stars alongside, Antonio Banderas, Enrique Iglesias, Salma Hayek, and Mickey Rourke. It is the final move of the Mariachi Trilogy (definitely didn't know this when I picked it). The plot kind of confuses me because everyone seems to be after different people, but stay with me. Johnny Depp plays a CIA agent who enlists Banderas' character to kill the leader of a guerilla rebel group in Mexico. Depp's character also enlists a retired CIA agent to kill a drug lord who works for the leader of the guerilla rebel group. There is some other stuff going on in there, but I can't quite keep track. All you really need to know about the plot is that Depp is NOT the only main star, but the movie is still quite entertaining. (Notice how I don't even know the names of the characters. I've seen this movie twice and I still can't follow who is doing what to whom!)
Honestly speaking, Once Upon a Time in Mexico is not a great movie. It isn't horrible, but it isn't going to make it to my list of top ten must-see movies either. The only reason I watched it was because Depp was starring. But the plot is really confusing (and not in a good way), the action is corny, and the atmosphere is too creepy to be realistic. It felt more like a spoof than a legitimate action movie. I'm not going say that I don't recommend it… but if you never see this movie, you won't really be missing out on much.
Favorite Scene/Aspect of the Movie
I enjoyed much of the dialogue. However, I also think that the dialogue took away from the impact of the movie. The screenplay is pretty funny. There are definitely a few quotable lines in there. Are you a MexiCAN or a MexiCANT? I just think that the dialogue was written for a different kind of movie. The humor is very crude, and dry, which does not make for a good action movie.
Least Favorite Scene/Aspect of the Movie
I didn't enjoy Depp's character. I think that the role was better suited for a different kind of actor. I just don't think that this was a good choice for him. In regards to skill, he was very good. Nothing seemed forced or outrageous, but his role wasn't believable.
It saddens me to have to write a less than spectacular Mad About Depp post. I want all of his movies to be great, but that's just not the case.
Let me know what you think! Is my point of view completely different from yours? Do you think that there was something about the movie that I didn't grasp? Please help me out!
xoxo
Karina