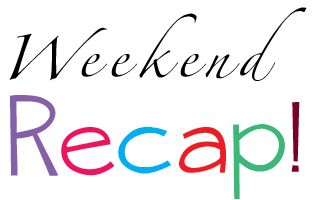 I realize I'm about a day late, but welcome to the second volume of my Weekend Recap posts!
---
My weekend was actually pretty awesome!
On Friday, I crossed! (aka going from being an initiate of Phi Sigma Pi to being a Brother of Phi Sigma Pi.) My Big, Alice, had to duck out early (WAH!), but I still had a good time. Her friend, and fellow Brother, Kevin stood in and gave me my first set of official letters! Most new Bros got t-shirts, tank tops, etc. Well… Alice doesn't roll like that. She made me, and my Bro-twin, Megan, personalized blankets. Oh-em-gee. This blanket is the softest thing I've ever felt! And she personally ordered sweatshirts for us. I love her. She's the best gift giver ever.
After the official ceremony, a bunch of us Bros, old and new, went to go eat at an awesome pizza place/restaurant. Considering how picky I am about pizza (
Hello, this is the Bronx calling about the BEST PIZZA IN THE WORLD!
), I was impressed. After the meal, one of the graduating Bros offered his house up for one pretty awesome party! No details available for that. ::wink wink::
On Saturday, I invited Krystle, Fluff, and Kaydence, to come to a Phi Sigma Pi picnic. We put Kaydence on a swing for the first time. It was the most adorable thing ever. She's growing a tooth, too! Ah, I love her.
After the picnic, Krys took me back to her house and we hung out for the evening. I had to be back on campus by 6pm for the Paddle Exchange at 7pm (which Alice also missed because her car broke down on the Turnpike.) And to top off the day, my first Brotherhood meeting ran until 12am. We're voting for e-Council positions (I'm running for Brother-At-Large!) and it takes forever. If I have to sit through one more pro-con debate, I'm going to scream.
That was my weekend! What did you guys do? Anything fun and exciting? Share, share, share!